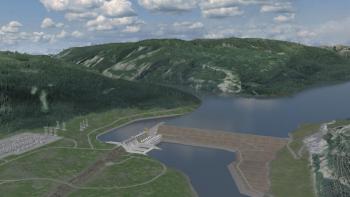 The generating station and spillways component of the Site C project will be procured through multiple contracts, including the civil works contract, hydro-mechanical equipment supply contract, powerhouse bridge crane supply contract and a completion (balance of plant) contract.
The scope of the hydro-mechanical equipment contract will include:
Design and supply of the following equipment:

Three wire-rope operated spillway gates
Six hydraulically-operated submerged low-level outlet gates
Two submerged low-level outlet guard/maintenance gates
Six hydraulically-operated intake gates
One intake maintenance gate
Four sets of draft tube maintenance stoplogs
The hydraulic and wire hoists required for lifting the operating gates
Lifting beams for lifting the low level outlet operating and maintenance gates, the intake operating and maintenance gates, spillway stoplogs and the draft tube maintenance gates
One portable hydraulic power unit with portable hydraulic hoist for lifting the submerged low-level outlet guard/maintenance gate
Gate guide anchors and embedded parts

Monitoring the installation of all supplied equipment, with an option for the contractor to perform the installation;
Undertaking any remaining assembly activities to make the supplied equipment fully functional; and
Commissioning all supplied equipment.
As part of the design of the gates, model testing will be required to demonstrate the achievement of specified hydraulic characteristics of the low-level outlet gates, low-level maintenance gate and intake operating gates.